Ear Reflexology
Ear Reflexology can be traced back to Chinese medical work undertaken 4000 years ago. The Chinese use it as a diagnostic and healing treatment that by stimulating points on the ear that are believed to correspond to different parts of the body.
Pioneering work by the Chinese over the last 40 years has lead to the World Health Organisation authorising the standardisation of the points on the ear (1990). They defined 91 auricular points.
HOW DOES IT WORK?
"The ear is connected to every part of the body because of the ceaseless circulation of energy and blood through these meridiens and vessels." Dr Helena Huang. 1974. The points for Ear Reflexology are similar to those in auricular therapy (ear acupuncture). A sensitive point is identified with either a finger or a small blunt stick. By attaching a seed, with a plaster, on to a point the patient can easily work it when required between treatments.
The Chinese believe that Ear Reflexology works by stimulating the central nervous system, as opposed to traditional reflexology which relaxes the body to allow balancing of the systems.
Also unlike traditional reflexology, each ear represents the whole body so only one ear is worked at a time.
WHAT CAN IT DO FOR YOU?
Ear Reflexology may benefit you in many ways, but the most notable is for the instant relief of pain. In China, reflexologists have found it beneficial for clearing infections, lowering blood pressure and balancing hormones.
Ear Reflexology is commonly used with foot and hand reflexology and can confirm a diagnosis suggested by imbalances in the feet and hand reflex points.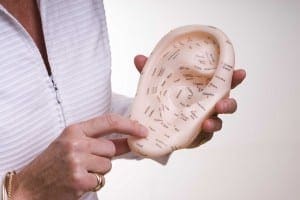 "Rosanna showed me where to work on my ears to reduce the nausea during chemotherapy. Ear reflexology was amazing; it reduced the nausea by about 90% so I could get on with my daily life more easily." Sheila, breast cancer patient
"I have been attending regular reflexology with Rosanna for the last eight years. She came highly recommended and rightly so. As a singer I found the ear reflexology essential. It really helped reduce the tension and fatigue in the larynx during busy periods. It was so well explained and easy to self administer." Sarah, London
"I met Rosanna when I became pregnant with my first son in 2001. She guided me through my pregnancy with weekly visits and I experienced a really good first pregnancy, no morning sickness, no cravings, no backache and a general feeling of wellbeing. Achieving my second pregnancy however was a different story. In fact, I credit Rosanna and ear reflexology to actually getting my second son. We had been trying for a second baby for almost a year, when I decided to visit Rosanna for a rebalancing session and whilst there discussed my frustrations in not being able to conceive again. After a wonderful foot session, Rosanna introduced me to ear reflexology and in particular the areas believed to represent the organs of reproduction and hormone stimulation. After practising exactly where I was advised to apply pressure and with instructions to alternate the ears each time and to do this twice a day, I left feeling thoroughly refreshed, a feeling that I always have after a session. And so began my morning and evening ritual of ear reflexology – and may be it was coincidence or may be it wasn't but within the month I became pregnant with my second son. I continued to see Rosanna throughout that pregnancy too and delivered with ease a 7.5lb baby boy nine months later. I am a firm believer in reflexology and in my case, ear reflexology helped me to conceive and I have recommended Rosanna to other friends who have experienced similar frustrations. Kate, Sussex
Still not convinced ? Take a look at some of Rosanna's testimonials