Chinese Face, Neck and Shoulder Massage
Daoyin Tao (DYT) is a therapeutic, revitalising, rejuvenating and relaxing treatment thought to rebalance the body from within. It is the harmonious blend of softened traditional Chinese with Western massage techniques. The techniques applied to the head, neck and shoulders are a mixture of sweeping and static circular movements.
The name derives from Daoyin: an ancient form of breathing and movement exercises that mobilise the external body and massage the internal organs; Tao: the flow of life, the way of the universe.
HOW DOES IT WORK?
DYT has its origins in Traditional Chinese Medicine (TCM). TCM is an ancient form of healing that brings the whole body into balance, rather than addressing the symptoms of disease, as with Western medicine. The treatment uses the 4000-year old Yin and Yang theory with the system of the five elements (wood, fire, earth, metal and water) to encourage the free flow of energy throughout the body allowing it to heal itself.
HOW MIGHT IT HELP YOU?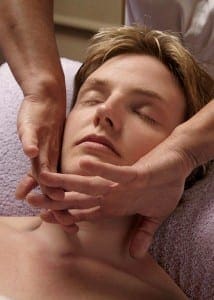 Developed through work on migraine and congested sinuses, DYT is useful in the treatment of any problems with the head or neck. In addition, as it is a holistic therapy, it is beneficial for a wide range of common ailments. Many minor health conditions respond well to DYT and it is supremely relaxing!
THE TREATMENT
Your first DYT session lasts an hour during which time a detailed case history is taken and a 30 minute treatment given. Each subsequent session usually requires 50 minutes, or you can add on 10 minutes of reflexology to finish, it's a great combination.
Your personal treatment plan is designed in the initial consultation after which time is spent working the most beneficial acupoints on the face, scalp, neck and shoulders. DYT is received lying down.
Rosanna Bickerton is fully qualified in the highly skilled techniques of Daoyin Tao, is a member of the Daoyin Tao Association and is fully insured.
Still not convinced ? Take a look at some of Rosanna's testimonials
"Daoyin Tao, the most effective treatment I know for total relaxation. I leave every session feeling completely chilled, any anxieties melt away." Sarah Lawson, Physio Remedies, London
"I have been having Daoyin Tao and reflexology with Rosanna for several years now and love it. I leave every session feeling like a new woman, completely chilled but rejuvenated. My husband noticed that my face looked brighter after my first DYT treatment. It is truly the most relaxing treatment I have ever had, all my stresses melt away…..and stay away for days. I can't wait for my next session". Kim, dental hygienest, London
"Daoyin Tao has stripped me of all stress and left me feeling the same way as two months on gardening leave!" Damian, client after his third session.
"If you are suffering from stress or exhaustion, Daoyin Tao is definitely worth trying." London Evening Standard.
"Rosanna's reflexology and Daoyin Tao provides me with the ultimate treatment for stress reduction and relaxation. So much so, I combine both treatments together, which is truly wonderful. I have been receiving treatments from Rosanna for nearly ten years now and recommend her to anyone that requires a very professional, knowledgeable and super fun therapist." Kate, designer, London